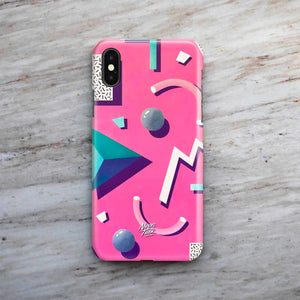 Limited Edition 100 prints / model.
 Lifetime Guarantee 
Mariah Birsak is an illustrator and artist from Rotterdam, The Netherlands. Her work is inspired by 80's design, memphis, surrealism and places of "The Dream". Using vibrant colors, forms and the beauty of palm trees she specializes in transporting people to a happy and nostalgic place.
Premium Cases:  Lifetime Guarantee  If your case break, a new will be sent with same design.🇺🇸US Orders: Made in US. EU/Worldwide: Made in Germany, UK and Australia. Choose this if you want good protection, quality and the nice looks. HQ print. Tough cases got that extra protecting rubber on the inside. Average U.S. Delivery time: 3-5 business days.
Regular Case: If the aesthetics is most important for you. Thin Slim fit & Full Wrap Print. Average Delivery time, 5-10 business days. Ships from US or India (worldwide)