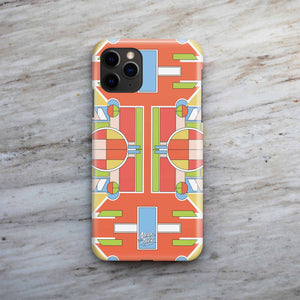 Exclusively for Neon Talk. Limited to 50 prints / Model. 

Some words from the designer Ana:
My name is Ana de Santos and I am a Spanish interior designer and I love my profession. For a long time I have wanted to focus more on 3d design to be able to represent everything that comes to mind, without restrictions. Is like a world of color and fantasy! My designs, full of color and shapes, can be taken to any environment. Doing projects with color is peace therapy for me.

Snap Case: Thin Slim fit & Full Wrap Print. Average Delivery time, 3-5 business days after shipout.
Tough Cases: Lifetime Guarantee. If your case break, a new will be sent with same design.) Choose this if you want good protection, quality and ofc the nice looks. HQ print. These got that extra protecting rubber on the inside, but still in a nice slim way.

Made in US, UK,EU and AUS. Ships out from your closest location.

PS: The preview image shows the iPhone 11 Pro. Even if this image shows in your order, don't worry, the phone model you choose is what you get.