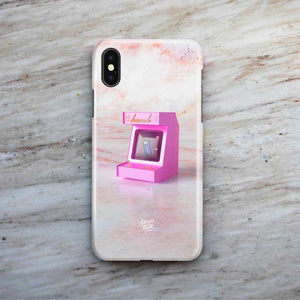 Exclusively for Neon Talk. Limited to 200 prints / Model. 
Regular Case: If the aesthetics is most importantly. Thin Slim fit & Full Wrap Print. Average Delivery time, 5-10 business days. Ships from US
Premium Cases:
Lifetime Guarantee. If your case break, a new will be sent with same design.
🇺🇸Made in US: US Orders.
Made in Germany, UK and Australia: Worldwide orders.

Choose this if you want good protection, quality and the nice looks. HQ print. Tough cases got that extra protecting rubber on the inside. Average U.S. Delivery time: 3-5 business days.
Neon Talk is super proud for this Limited Edition collab with Blake Kathryn. Blake is a Los Angeles based artist wielding a palette of pastels and neons. Her work touches upon themes of nostalgia, states of consciousness and vices – iterated into dreamlike compositions. Some of her clients is Adidas, Bloomberg Businessweek, Electric Objects, Happy Socks, Virgin Records and Vox.