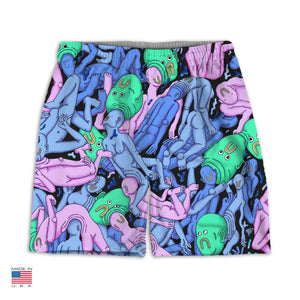 All Over Print. Made in California, U.S. 
Worldwide Shipping. Ships from U.S.
Alex Gamsu Jenkins describes his work as exploring satirical and critical subject matter through a distinctive and vivid style. He try to avoid the pretence but wallow in humour, whilst touching on the absurd and surreal. Some of his clients is VICE, Mixmag, Juxtapoz, The New York Times, NME.

These are real all over print, first printed, then sewn together. Print on both sides.


These are made to order. Please know that there is a average 14 day crafting period. (max 20 days)


Size Chart (Go one size up, also measure)

All US orders will be shipped using either Fedex or USPS priority mail. A tracking number will be sent to the email that you provided when placing the order. Normal shipping times for US orders are around 2-3 business days after the item is sent unless you paid for faster delivery.
International shipping cost is calculated by product weight and shipping address. A tracking number will be provided, but once the item is outside of the US, it will not be tracked. Please allow 7-14 business days for international shipping as each country's system for delivering packages is different.
Payment of customs fees or duties is your responsibility, and is due at the time of delivery. For more information on customs or duty fees, please contact your local customs office.