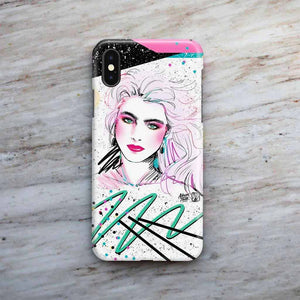 Limited Edition only 100 prints / model
Regular Case: If the aesthetics is most importantly. Thin Slim fit & Full Wrap Print. Average Delivery time, 5-10 business days. Ships from USA.
Premium Case:   Lifetime Guarantee!  we send a new (same design) if it breaks🇺🇸Made in USA: US Orders. Made in UK, Germany and Australia: Worldwide orders. The premium case is perfect if you looking for a very good full wrap quality. The tough case got the rubber inside for the extra protection. Full wrap HQ print and rubber inside. Average Delivery time 3-5 business days. 
Neon Talk are proud to present a limited edition phone case collection from the artist Mizucat. Her art gives you a fantastic trip to the sparkling 80's Hair Salon Style, and will make any room more interesting.  
Make sure to catch one!