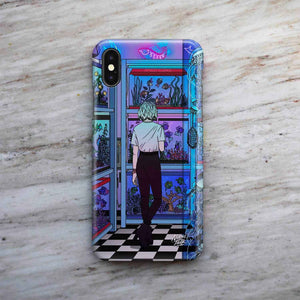 Limited Edition Phone Cases. 100 prints/size. 
Snap Case: If the aesthetics is most importantly. Thin Slim fit & Full Wrap Print. Average Delivery time, 5-10 business days. Ships from USA.
Tough Case. Premium: 🇺🇸 Made in USA. Choose this if you want good protection, quality and the nice looks. Full wrap HQ print and rubber inside. Average Delivery time 3-5 business days.
Kelsey Smith / Amidstsilence is an Atlanta based Illustrator and animator. She is one of the most hyped retro designers of today and her artwork "Arcade" is for sure an upcoming cult classic in the neon and vaporwave scene. The piece got over 22000 notes on Kelseys Tumblr and her twitter is loved by thousands. Kelsey loves to create art that contains a magical and dream-like atmosphere. Neon Talk is super proud for this collab, make sure you catch one, these art prints will go fast!